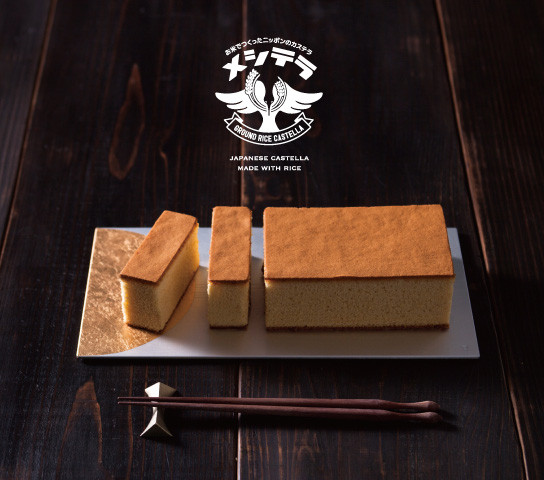 Japanese castella sponge cake baked with rice flour, 
that is 100% made from Tajima's 「Stork natural rice」brand rice.
This gluten-free (no wheat flour) castella sponge cake has the unique
chewy texture of rice flour.
Would you like to enjoy rice even more?
Why did I not notice.
The flavor and the aroma of the exact same rice differ greatly,
depending on the region where it was grown, 
the agricultural methods by which it was grown, and the producer who grew it. 
By using Tajima's 「Stork natural rice」brand rice, it is possible 
to express the unique flavors of this region. Currently,
there is no other product that presents rice as not just "gohan,"
but instead, as something that brings happiness on sight, and joy with purchase.
Therefore, we made a delicious castella sponge cake from rice flour, 「Meshitella」.
☆ The name 「Meshi-tella」 come from. Meshi - meaning rice.   Tella - from Custella.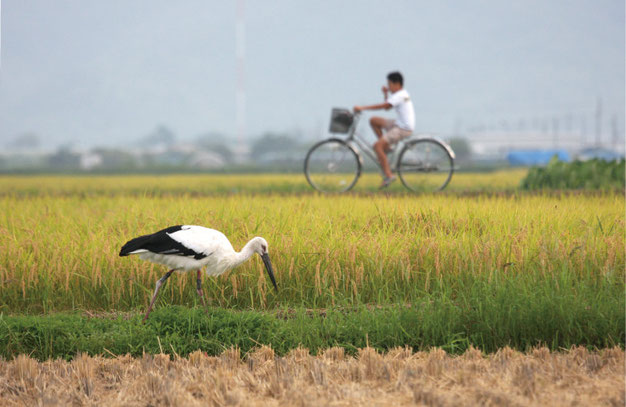 Valueable ingredients from Tajima.
Tajima region, where Patisserie cafe Katashima is located,
is in the northern part of Hyogo Prefecture,
blessed with rich, natural surroundings. 
Moreover, through the efforts to return storks (kounotori) back to the wild,
the town is actively promoting people and nature to live symbiotically. 
As much as possible, "stork friendly agricultural methods" are employed,
which advocates independence from pesticides and chemical fertilizers.
Additionally, many creatures, that are eaten by the storks, are fostered inthe rice fields.
Therefore, grown in enviromentally conscious ways, 
『Stork natural rice』is the pride of Tajima.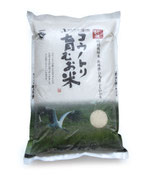 JA-TAJIMA Stork natural rice
This rice was produced as a part of a program, to create an environment, 
that facilitates the survival of storks returning to the wild.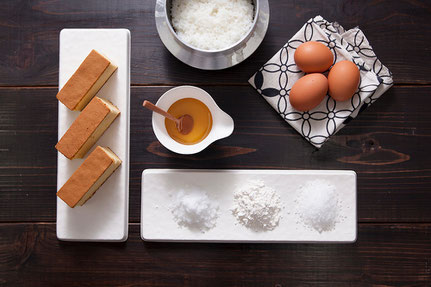 In order to bring out the intrinsic rich and interesting flavors, 
and the elastic chewiness of rice flour, the recipe was finally developed after repeated trials.
"Meshitella" uses freshly laid eggs, delicately sweet "wasanbon" sugar,
and the rice flour made 100% with "Stork natural rice" brand rice. 
These ingredients are baked in a specialized method using high pressured steam.
Therefore, "Meshitella," made with this unique recipe, is an ultimate castella sponge cake. 
The reason for the brown hue on the yellow castella sponge cake of "Meshitella,"
is the color of "wasanbou" sugar,produced in the traditional production method of Tokushima Prefecture.
 "Wasanbou" sugar is made from sugar canes grown in the Awa region of the Tokushima Prefecture.
These sugar canes, that have been grown in this region for a long time,
do not bear flowers, but instead direct all of the nutrients to the stem, 
thereby resulting in the unique aroma and the flavor of this special sugar.